Zeeva Stonebreaker is a powerful front line creature who can easily take the mightiest physical blows without even flinching. She has moderate attack, good health, and Sunder Armor, allowing her to deal good damage for a good period of time, especially against walls thanks to her Sapper.
*NOTE: Fields that contain the text *See above means the effect remains the same until said otherwise.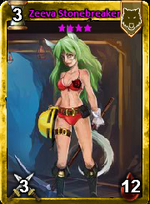 Ad blocker interference detected!
Wikia is a free-to-use site that makes money from advertising. We have a modified experience for viewers using ad blockers

Wikia is not accessible if you've made further modifications. Remove the custom ad blocker rule(s) and the page will load as expected.