Sylvi Bladesoul is the core creature in which most players defeat King's Mausoleum with.  A priest will give her the Sanctuary buff and a warrior will apply Heroic buffs to her.  The Heroics will provide her with a massive damage boost which will allow her to easily slaughter the boss if given enough turns.
Card Details
Rank
CD
Attack
Health
Ability
5
1
10

Triple Strike




Fleet Foot




Burrow

5
1
12
*See above
5
2
12
*See above
5
2
17
*See above
5
3
17
*See above
*NOTE: Fields that contain the text *See above means the effect remains the same until said otherwise.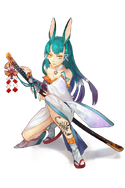 Ad blocker interference detected!
Wikia is a free-to-use site that makes money from advertising. We have a modified experience for viewers using ad blockers

Wikia is not accessible if you've made further modifications. Remove the custom ad blocker rule(s) and the page will load as expected.