Though her countdown may be high, Sensei Calista more than makes up with her devastating combination of Blitz Strike and Sunder Armor. Her First Strike allows her to annihilate enemies who stand too close, and her high health allows her to remain for a long period of time. Because of Blitz Strike, any attack modifier will have a massive effect on her, making her an incredible card when used by warriors or creatures with aura buffs. Note that Heroic only buffs her attack by 1, not 5. Very useful for completing the boss King's Mausoleum.
On Awakening, Sensei Calista gains 1 attack, which seems small until you remember that the effect of this power up is quintupled by Blitz Strike.
*NOTE: Fields that contain the text *See above means the effect remains the same until said otherwise.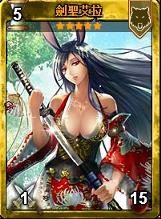 Ad blocker interference detected!
Wikia is a free-to-use site that makes money from advertising. We have a modified experience for viewers using ad blockers

Wikia is not accessible if you've made further modifications. Remove the custom ad blocker rule(s) and the page will load as expected.