Obtainable through: PvP shop (1500
), Victory pack.
When her ability Withering Aura is played in conjunction with Yumi Swiftshot's Deadly Reflex, most basic creatures summoned by the opponent will perish upon entering battle.  Her ability also works well with Undead King Bael's Call of the Undead King.
The biggest drawback Princess Sarya has is her very, very low HP. Unless you can protect her, using for example a Blessing: Sanctuary, or a creature with Martyr, she will most likely die soon after she is summoned.
On Awakening, she gets a decent stat boost and a large increase in Withering Aura's power.
*NOTE: Fields that contain the text *See above means the effect remains the same until said otherwise.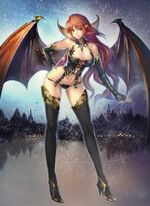 Ad blocker interference detected!
Wikia is a free-to-use site that makes money from advertising. We have a modified experience for viewers using ad blockers

Wikia is not accessible if you've made further modifications. Remove the custom ad blocker rule(s) and the page will load as expected.