The card is available from Epic (4) to Godlike (6) rank.  Prince Serka is Unique; only one Prince Serka is allowed on each side of the battlefield at a time. 
If given the buff Heroic, Prince Serka may become difficult to kill and safely dispatch against.
A legendary (5) Prince Serka is given to the player upon completion of region 10 and is also the reward for attaining an undead reputation of level 45.
*NOTE: Fields that contain the text *See above means the effect remains the same until said otherwise.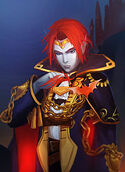 Ad blocker interference detected!
Wikia is a free-to-use site that makes money from advertising. We have a modified experience for viewers using ad blockers

Wikia is not accessible if you've made further modifications. Remove the custom ad blocker rule(s) and the page will load as expected.