Pontiff Faol can protect allies in adjacent squares with Martyr. Her Regeneration makes her ideal for prolonged bouts, as she can absorb low damage over a very long period of time. She can perhaps one or two large shots of damage as well due to her high health, though this will severely impede her longevity. Her Holy Nova is one of the most powerful attack abilities in the game, dealing irreducible damage to all enemies around her. However, her low attack means that she will require aid to be effective offensively. On Awakening, Pontiff Faol gains stats and Revive, allowing her to take any nonlethal damage and heal all of it instantly, making her impossible to kill without either stopping the ability or hitting her with an immense burst. She also becomes quite respectable in combat with decent attack.
*NOTE: Fields that contain the text *See above means the effect remains the same until said otherwise.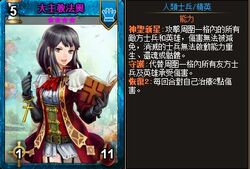 Ad blocker interference detected!
Wikia is a free-to-use site that makes money from advertising. We have a modified experience for viewers using ad blockers

Wikia is not accessible if you've made further modifications. Remove the custom ad blocker rule(s) and the page will load as expected.