Emrys the Unyielding is acquired through earning 1500 pvp medals and purchasing his card through the pvp shop, by obtaining post season pvp rewards or through opening a Victory pack.
Emrys the Unyielding is a powerful fighter, who deals double damage to creatures with a wide variety of skills due to his Combat Master. He possesses immense stats, and his enhanced movement allows him to charge into combat quickly and wreak havoc instantly.
On Awakening, Emrys the Unyielding gains health, has Cavalry replaced with Gallop, and gains Majesty making him valuable in decks that can summon many creatures quickly.
The AI can summon Emrys in the boss Castle of Bones second stage.
*NOTE: Fields that contain the text *See above means the effect remains the same until said otherwise.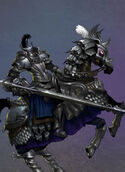 Ad blocker interference detected!
Wikia is a free-to-use site that makes money from advertising. We have a modified experience for viewers using ad blockers

Wikia is not accessible if you've made further modifications. Remove the custom ad blocker rule(s) and the page will load as expected.